Moto Cinch — a new patented product that replaces the hassle of motorcycle tie-downs!
With the invention of the patented Moto Cinch, you can now avoid the headaches associated with traditional tie-downs and significantly reduce the amount of time it takes to secure your motorcycle. Moto Cinch installs in any type of truck, trailer, or RV.  MC allows you to better organize your motorcycles and even allows for long term storage when used in the unlocked position. You simply pull up on the cam action lever when you are ready to start your trip. Moto Cinch eliminates the stress on forks, seals and springs that could affect performance. You can walk around your bikes without tripping or wasting time trying to get the proper pressure or angles. Moto Cinch, an industry-trusted and secure system, maximizes your valuable cargo space by offering the most versatile load configuration in the industry. Moto Cinch makes loading and unloading your bikes simple. Just Click, Cinch and Go.
Original inventor and MX aficionado Chuck Murphy of Riverside California set out to simplify the daily task of loading and unloading his bike.  After a lot of trial and error and help from friends, he came up with the now patented Moto Cinch tie down system.  The name was derived from the ease of loading and unloading bikes (it's a cinch).
I started riding and racing as a kid and even after a LOT of injuries, I just couldn't get it out of my system.  Fast forward years later and both my kids are racing in the mini division on Honda CRF 80's.  My wife and I enjoy spending time on the road and at the track with the kids but with busy schedules and no close by tracks, finding the time just got harder and harder.
I had various truck and trailer setups to haul 2-4 bikes and a RZR or side-by-side.  It was always a hassle getting everything loaded and secured, not to mention the occasional strap coming loose or fork seals leaking (even when using plastic fork protectors). Chucks Moto Cinch was a perfect solution for my problem!
It has taken years to obtain the patent and perfect the design and manufacturing process.  The new design eliminates the cast aluminum "boot" that fits over the foot peg and replaces it with an even stronger, welded boot.  The MX1A is the first of many products you will see coming from Moto Cinch.  This is the full size dirt bike version designed to fit most bikes with open pegs, and ground to peg distances of 13.5 – 16".
In the future Moto Cinch will be providing products to the motorsports industry that are designed to SIMPLIFY your life.
Here are a few products in R&D:
Street bike conversion kit
Street bike model
Mini MX model (for bikes up to 70cc)
Wide peg conversion kit (if you have those super wide pegs, this kit will replace the standard boot).
Snow bike model
ATV and side by side model
E-Track conversion kit
Wheelchair securing model (long story…)
Accessories for the rider and track!
We are a small veteran owned and family run business.  Try one out, I promise you'll love it!
MOTO CINCH – SIMPLIFY THE RIDE!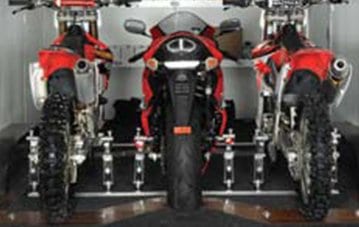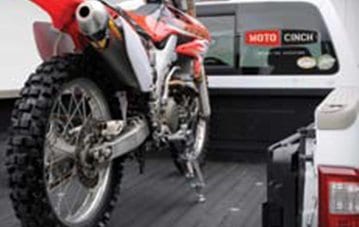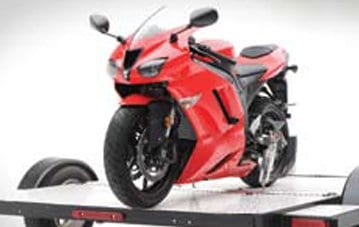 THE SAFE AND SECURE WAY TO TRANSPORT MOTOR CYCLES .
Moto Cinch can also be used for transporting Sport Bikes (minor modifications can be made to stock pegs if needed). Moto Cinch will maintain the position and security of your motorcycle without the hassle of searching for attachment points for tie-downs or soft ties. The tie-downs on Sport Bikes often cause damage to the fairings and other attachment points. The Moto Cinch is so versatile that it can easily be adjusted for multiple-size motorcycles and aftermarket foot peg sizes. The Moto Cinch will be the new Standard for the way people secure their Sport Bikes, whether you're off to the track or heading off to another Adventure.